76-Bulb Drop System DS.76.01
The Drop System is comprised of small blown glass droplets illuminated with warm LED lights. Custom Brass hardware is available in a variety of new finishes, like Mottled Brass and Tarnished Nickel finishes which are both oxidized and hand-rubbed, lending depth to the sleek hardware. Drop System lends itself to extensive customization by architects and interior designers to create an aesthetic ranging from restrained and minimalist to organic and indulgent. "This system is based on pure industrial design. I challenged myself to be reductive in the number of unique elements such as straight lines and circles, to achieve the optimum number of potential configurations and range of aesthetic directions" says Lindsey Adelman. Each piece is built to order in the United States.
"This system is based on pure industrial design. I challenged myself to be reductive in the number of unique elements such as straight lines and circles, to achieve the optimum number of potential configurations and range of aesthetic directions. In particular, I was inspired by utilitarian lights - such as the rows of bare bulbs in subway tunnels, as well as Piet Mondrian's painting Broadway Boogie Woogie. He painted this late in his career and was inspired by the rhythm of New York itself. His reductive painting reflects a balance of positive and negative and masculine and feminine - in the spirit of the De Stijl movement to create harmony out of opposing forces. This new collection has been materially stripped down - but the lights begin a life when they arrive at their destination, where they become relevant and personalized. That is one of the main reasons I am an industrial designer as opposed to an artist, I love creating a well engineered, well considered 'kit' and engaging in a dialog with clients." -Lindsey Adelman
76-Bulb Drop System DS.76.01
Technical Specifications
Designer
Maker
Collection
Materials
Machined Brass and Hand-Blown Glass.

Dimensions
Canopy: Dia. 5" x H 3"

Fixture: L 60" x W 24" x H 87"
Globes: Dia. 2.25"
Overall Height: Min: 104", Max: 164"
Illumination
110V/22V: G4, 1.2W/20W Halogen, 2700K, 12V dimmable LED, transformer provided.
Suspension
A standard 12" site adjustable stem comes included with purchase. Longer stem lengths are available at an additional cost, (creating a minimum overall drop between 104" and a maximum of 164")
Disclaimer
Dimensions are approximate and may vary slightly. Due to the Hand-Blown nature of the Glass, there may be slight variations in size.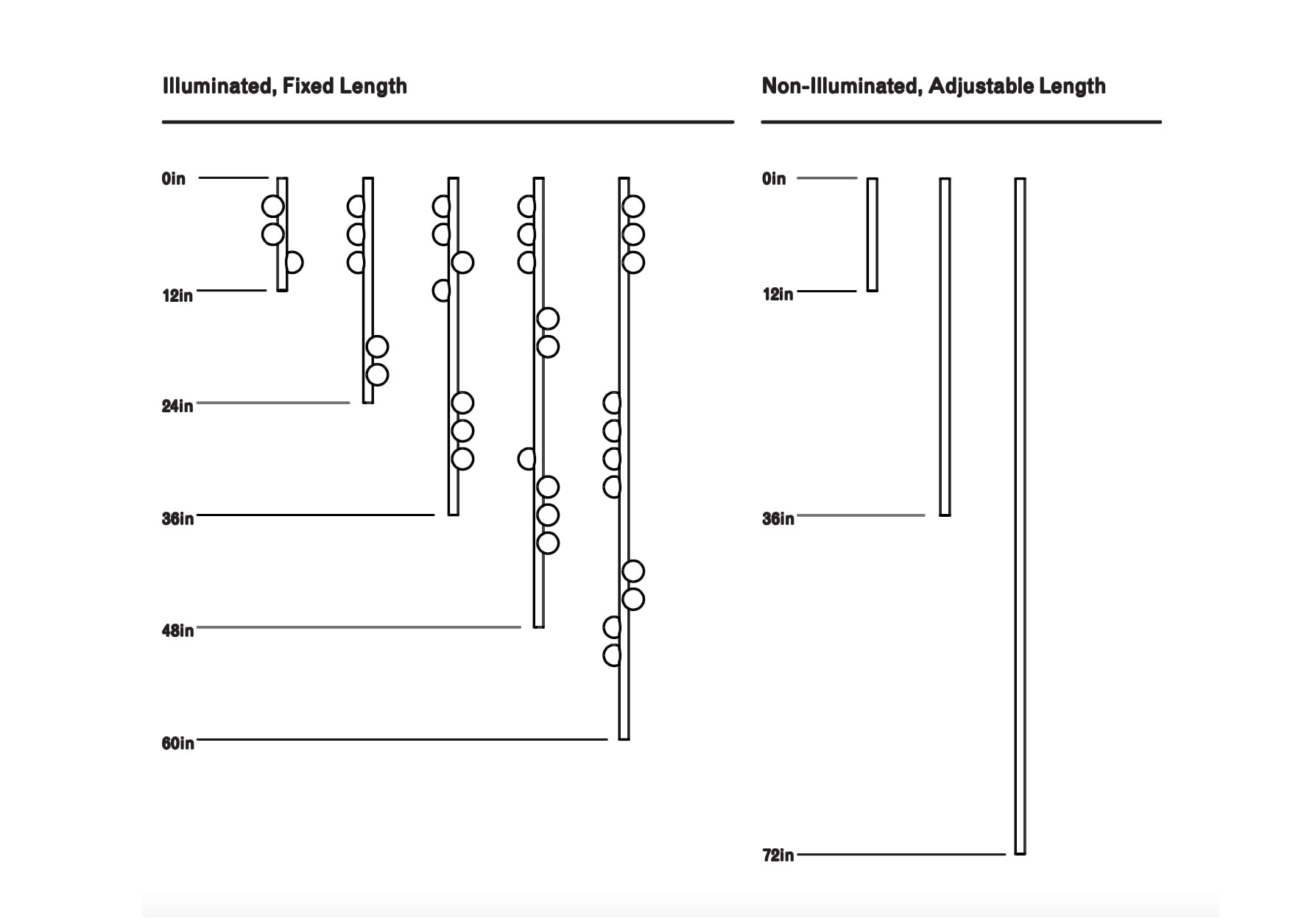 Build Your Product
MAKE IT YOUR OWN, CREATE YOUR CUSTOM PRODUCT WITH THE OPTIONS BELOW.
Need Help?
Call us at 877-388-7373 if you have questions.
This is mobile details.